Después de pasar algún tiempo con el actor, una cosa es evidente: el astro de
Lost
es todo menos una estrella, en su modo de ser. Aunque ya haya vivido en Nueva York y Los Angeles y ahora viva en Hawaii, el actor de 41 años, continúa de la manera como creció: cercado por las tradiciones del Viejo Oeste.
Después de quedar marcado por la participación en la serie
Party of Five
, [1994 - 2000], en la cual hacía un papel romántico,
a
Matthew Fox
le gusta interpretar un personaje lleno de aristas como

Jack

.
"Siempre supe que mi hora llegaría cuando pudiera dar vida a hombres de verdad"

, dice.
Su cabello lo llevaba cuidadosamente arreglado en

Party of Five

. ¿Quién es el responsable del cabello corto que usted exhibe en Lost?
Yo. Fue una elección consciente. Me siento orgulloso de
Party of Five
, pero hacía el papel de un personaje que era muy suave y que tenía lo que las mujeres suelen decir que quieren en un hombre. Charlie era sensible, atento, abierto. Pero en verdad ellas también gustan de quien exhibe un lado más osado, oscuro y hasta brutal. Me dejé así el cabello, nada más terminar la serie. Fue liberador. Desde entonces me gusta llevar el cabello corto - no da trabajo ninguno.

Está con el cuerpo más definido, parece estar más musculoso y más fuerte. ¿Era parte de un plan?
Para decir la verdad, estaba un poco fuera de forma cuando comencé a grabar
Lost
, hace tres años. Pero creí que esa sería una buena manera para componer el personaje de un modo natural. Como Jack antes de ir hacia la isla era un cirujano que enfrentaba una rutina estresante en hospitales, imaginé que probablemente él no se cuidaba mucho. En la isla eso fue cambiando de a poco. Mi objetivo es que en los episodios de la Cuarta Temporada [que deberán emitirse en 2008] él esté magro, en plena forma, pareciendo una máquina.
Hablando de máquinas, aún anda en moto?
Solía hacer eso casi todo el tiempo, pero cuando mi hija nació, mi mujer dijo:
"OK, se acabó la moto de aquí en adelante"
. Me quedé así por ocho años. Comencé a trabajar el asunto
poco a poco. El año pasado compré una chaqueta de cuero de la Ducatti [marca famosa de motocicletas de carrera]. Cuando salíamos la gente me preguntaba si yo tenía una Ducatti. Respondía que no, sólo la chaqueta. Hasta que un día le dije a ella:
"Mira, vivimos en Hawaii, un lugar con carreteras abiertas, un paisaje lindo y ningún tráfico."
¿Eso quiere decir que Hawaii es su casa ahora?
Sí. Es donde mi mujer, Margherita, y mis dos hijos, Kyle, 9 años, y Byron, 6, están. Hawaii tiene un clima que promueve una sensación de bienestar que me deja con ganas de hacer ejercicio y de comer mucho pescado. Oahu, donde vivimos, es también una isla sexy, voluptuosa y tentadora. Transmite una sensación peligrosa, en el buen sentido.
¿Cual su descubrimiento hawaiano favorito?
Un restaurante japonés con los mejores sushis que he probado, el Sasabune, en Honolulú.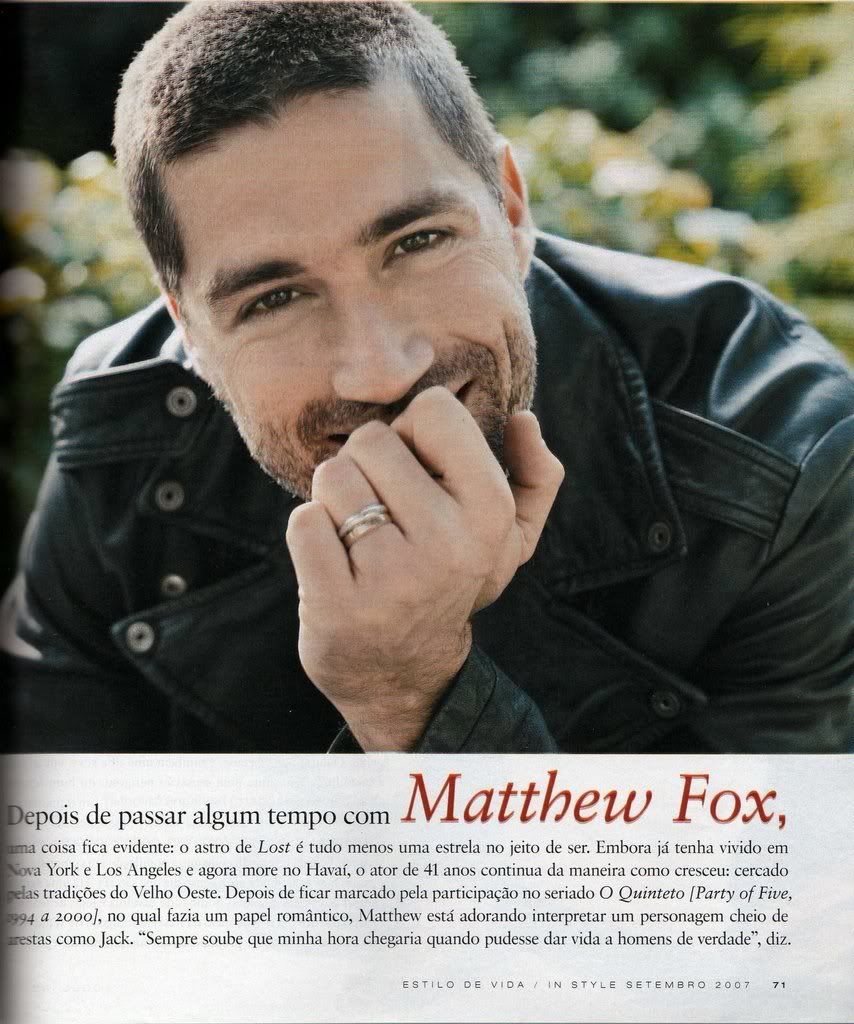 Describa Crowheart, Wyoming, donde usted creció.
Pasé mi vida entera diciendo que la población estaba compuesta de 13 personas, pero aparentemente el censo dice que son 123. Hay una agencia céntrica de correo, algunas bombas de gasolina y tiendas de leña. El rancho de mi padre queda en medio de la Reserva Indígena de Wind River. Se trata de una pequeña propiedad que fue transmitida legalmente por los indios hace 100 años. En el colegio que frecuentaba, la mayoría de los alumnos era de origen indígena. Tuve que lidiar con mucha tensión.
¿Cree usted que la temática gay del

Secreto de Brokeback Mountain

afecta la imagen del cowboy?
Me gustaría ver que hicieran más películas osadas. Wyoming es un lugar muy bonito. Una de las cosas que más extraño es poder andar en medio de la nada, reflexionar, disfrutar momentos de introspección para comprenderme mejor. Al mismo tiempo persiste una mentalidad de tierra sin ley, de Viejo Oeste, que lidia con lo trágico. Durante el colegio perdí muchos compañeros. Algunos por que conducían borrachos, otros por que intentaron el suicidio. Eso me afectó.
¿Cual su imagen de las mujeres de Wyoming?
Atléticas, con piernas largas, usando jeans ajustados, botas de cowboy y un cinturón ancho con hebilla mientras montan un caballo. Muy sexy.
Su mujer, Magherita, es una ex-modelo que vino de Venecia. ¿Como se conocieron?
Fue cuando estuve en la Universidad de Columbia [él tiene diploma en Economía]. Margherita estaba en Estados Unidos por primera vez y su inglés era rústico. Fui a un restaurante con una amiga que la conocía también. Ella nos presentó y nos enamoramos locamente de forma casi inmediata.
¿Hay alguna expresión cariñosa en italiano que guste decirle a ella?
Sí. Una cosa que siempre le digo es:
"Ti amo più di tutto nel mondo."
Significa:
"Yo te amo más que cualquiera otra cosa en el mundo."
Repito esas palabras a menudo.
¿Como se siente a los 41 años?
Estoy animado. No pienso en la edad o de que forma podrá afectarme. Tal vez me quede terriblemente sorprendido, pero estoy feliz y emocionado con mi vida ahora y también muy agradecido.
Fuente: Raft Reload Media