En lo personal este capítulo me gustó bastante. Encuentro que resolvió y supo enganchar (como muchos de los episodios de esta temporada) datos que hemos venido descubriendo en el camino y lo principal: cómo Jack terminó MAL y al borde del suicidio,
que era algo pendiente desde la última finale.
Christian-Charlie-

Smokey

te hacen volver.

Creo que deben tener en cuenta lo siguiente, haciendo una analogía a algunos de los losties off-isla, dicese Hugo, Michael y Jack:
Hasta cierto punto retoman sus vidas con un indice de "normalidad", pero hay un detonante: que cada vez me convenzo más de que es Smokey-Jacob fuera de la isla que los impulsa a volver. Lo vimos con Hurley ya en el 4x01 The Beginning of the End, cuando Smokey se materializa en Charlie (a esta altura es mi
percepción) y le dice que debe volver a la isla porque "lo necesitan".
También lo vimos con Michael (o Kevin, como prefieran llamarlo) cuando se imagina a Libby-Smokey en el hospital, y ahora lo vimos con Jack, con la visita de Christian, su padre, materializado en Smokey (da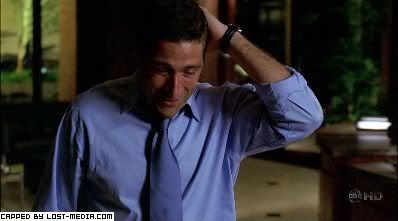 do que el detector de humos se activó) en el Hospital Saint Sebastian.
Este detonante los hace cuestionarse TODO: el por qué están fuera de la isla, el por qué sucedió lo que sucedió con los demás losties -que es una de las grandes interrogantes hasta ahora en la serie- y su directa responsabilidad en este importante hecho (en el ca
so de Michael, es cargar con la culpa de haber matado a Ana Lucia y Libby para lograr rescatar a su hijo). Y las consecuencias son desastrosas: Hurley termina internado nuevamente en Santa Rosa, porque no puede lidiar con el problema; Michael intenta suicidarse en numerosas oportunidades infructuosamente, ya que tal como le dijo Mr. Friendly en el 4x08 Meet Kevin Johnson, "la isla no te dejará
hacerlo" y finalmente, Jack -tal como lo vimos en el 3x23 Through the Looking Glass- drogadicto y alcohólico, al borde del suicidio, sin Kate ni Aaron, debido a su adicción, y tratando de volver desesperadamente a la isla para que Smokey-Christian lo deje en paz de una vez por todas.
Kate y Jack, el universo Jater.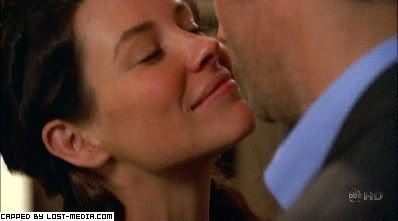 Debo
decir que igual -aunque era muy improbable- esperaba que saliera Juliet de l
a
ducha. Pero, situandonos en la dimensión FF, y en los reales sentimientos de Kate, la relacion Jater en el f
uturo era esperable en un 100%.
Por qué digo esto, es cierto que Kate en la isla amaba tanto a Sawyer como a Jack, pero creo que luego de Eggtown 3x04, dimensionó que su faceta de madre naciente no la
podría materializar al lado de Sawyer. En cambio
en Jack, vio seguridad, estabilidad (hasta cierto punto no más) y un nuevo mundo al cual ella nunca estuvo acostumbrada, situación que al lado de Sawyer -lo
digo intentando pensar como Kate- no la tendría nunca. Por
esto era muy esperable que ambos terminaran juntos en el futuro. Ahora la actitud obsesiva de Jack es muy comparable a la que tuvo en su momento con Sarah. ¿Recuerdan la escenita de celos de A Tale of Two Cities 3x01? Cuando, a pesar de estar ya separados, se negaba a firmar los papeles de divorcio y a empecinarse en creer que "el otro hombre" era su propio padre? Esta escena de celos por Sawyer hacia Kate era CALCADA de aquella, ¿no creen ustedes?. Es por esto que echo por la borda su compromiso con Miss Austen y se volvió aún más paranoico que en su pasado.
Se lo prometí a Sawyer.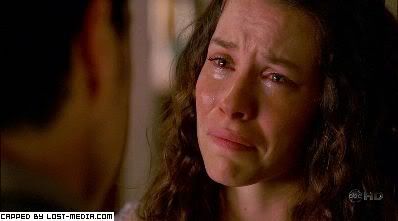 Aquí lo primero que se me vino a la mente fue que la promesa era Clementine. ¿Qué más puede prometerle a Sawyer en el mundo exterior? Recordemos que el conman no tiene a NADIE excepto su hija, por lo tanto es comprensible que se la haya encargado a Kate cuando ésta se fue de la isla. Si esto fuese correcto me imagino la sorpresa de Kate al constatar que la madre de Clementine fue la misma mujer que la ayudó a hablar con su madre en el pasado. Yo no apoyo la teoría de que a Kate aún le interese Sawyer en el futuro. Creo que siempre se visualizó con Jack para algo estable y mantengo que esta promesa fue más que nada por lealtad y cariño hacia Ford. Lo que sí apoyo es que ni Sawyer, ni Locke, ni Jin, ni Claire estén muertos, por algo también Jack se refirió a él como "él decidió quedarse, -no dijo "él está muerto, Kate"- yo estoy aquí, yo te salvé".
¿Papá?

Continuando con lo último que planteé, considero
que Jacob-Smokey se materializó como Christian Shephard en la selva para ir en busca de Claire. Creo que Clair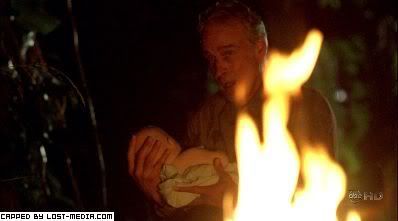 e necesita cerrar el capitulo con su padre, pues recordemos que en el capitulo Par Avion 3x12, sólo vimos su quebrantada situación sin ponerle un punto final en calma. Creo que esta es LA oportunidad de Claire para que a través de Smokey el espíritu de su padre pueda dar un cierre a su relación y quizás contarle que tiene un
hermano (antes de que termine la serie y algo le pase), y que ese hermano es nada menos que Jack.
Creo que durante estos capítulos Claire resolverá o
intentará resolver estas interrogantes, pero lo que no me cuadraría es que no se cumpliría el flash de Desmond, donde la vio subirse al helicoptero con Aaron y dejando la isla. ¿Será que algo le sucede en el barco? Ahora Aaron está en manos de Sawyer para poder llegar sano y salvo al campamento, y ser luego rescatado en manos de Kate.
No debías criarlo tú.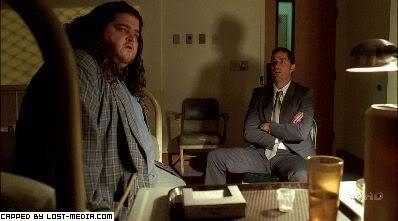 Lo más intrigante del capitulo para mi fue el mensaje de Charlie-Smokey que poseía Hurley para Jack. ¿Cómo pudo saber Hugo lo que estaba pasandole exactamente al Doc sin haberlo visto en mucho tiempo? ¿Cómo podía decir "no se supone que lo cries tú" sin tener conocimiento de que Jack estaba criando a Aaron junto con Kate? -tengan presente también el hecho de cuando Malkin el adivino le dijo a Claire "se supone que debes criarlo tú, no otra persona", ¿lo recordaban? ¿qué es lo tan importante que posee Aaron que sólo Claire debe criarlo?-y por sobretodo, ¿cómo podía saber que Christian Shephard-Smokey iria a visitar a Jack? Todo e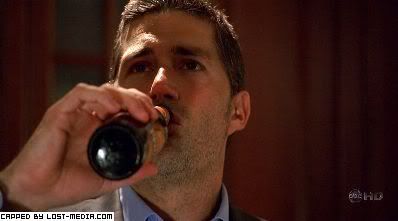 sto según el se lo dijo Charlie...pero no hay modo de que Charlie Q.E.P.D.,
pueda conocer el futuro o
situaciones alternas que Hurley ignoraba en su encierro. La única opción es que haya sido Smokey-Jacob materializado fuera de la isla. Lo descomunal es ¿CÓMO puede lograr esta materialización lejos de la isla? Este es sin duda EL DETONANTE de la perdición de Jack. Por otro lado, la aseveración de Hurley, cuando dice "estamos todos muertos, no salimos nunca de esa isla", debo decir que también me puso los pelos de punta, pues me cuestioné TODO nuevamente: ¿y si es verdad y nunca salieron? ¿y si es por esto que no pueden morir, porque ya están muertos? Sé que suena loco, pero es un acontecimiento que no deja indiferente, hace inconfundiblemente generar un replanteamiento de situaciones o del "cierto" orden que uno logra tener en la cabeza a lo largo de los años del seguimiento de esta serie. ¡Y es por eso que me encanta!
Jin, el astuto.


¡Qué inteligente es Jin! ¡Qué manera de darse cuenta de que Charlotte dominaba el coreano, de que siente algo por Faraday y de saber aprovecharse de todo esto! Realmente me saqué el sombrero ante su astucia. La escena de la promesa de Charlotte en coreano de sacara a Sun de la isla fue magistral.
Rousseau muerta de verdad.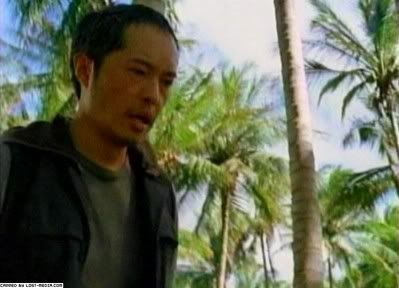 Qué lastima, tenia la verdadera esperanza de que Rousseau hubiese logrado reincorporarse y salvar de la balacera, pero con la constatación de Miles el medium, todo eso se dispersó. Todo esto nos aleja cada vez más (¿o no?) del FB de Danielle, que nos habian prometido anteriormente Darlton.




En la isla no te enfermas.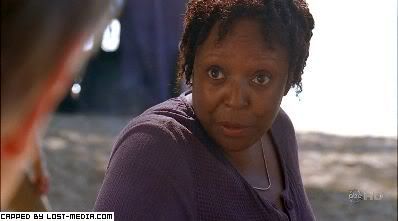 ¿Es capaz la isla de vengarse contra quienes no cumplan con sus condiciones? Lo vimos en Ben, con su tumor en la columna. Sus irresponsabilidades s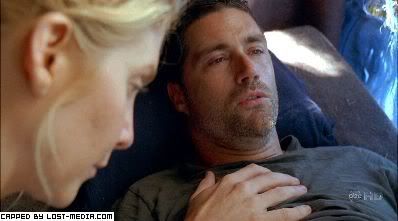 on innumerables asi es que
aqui no es punto de análisis. El que sí es punto de análi
sis es Jack. El fue el directo responsable de la llegada de los hombres de Widmore a la isla y de crear el desbalance natural que existia. En venganza la isla lo enfermó, en este caso de
apendicitis. Sea banal o no, no es el punto de discusión, sino el hecho. Tal como Rose dijo, "aqui las personas no se enferman, aqui se mejoran". Es su caso directo, el de Jin, y el de Locke, y en cierta medida, el de Charlie al curarse de su adicción.


¿Qué nos depara

Cabin Fever

4x11?
Ahora nos queda conocer cómo llegan Sayid y Desmond a la isla, cómo llegan (si es que llegan) Sawyer, Aaron y Miles al campamento, qué sucedió en el barco en todo este tiempo, ver si Hurley, Ben y Locke logran encontrar a Jacob y
cómo es que Horace Goodspeed entabla una conversación post-mortem con Locke, tal como se ve impresionantemente en la promo del proximo capitulo, "Cabin Fever" 4x11.



Por Freckles.