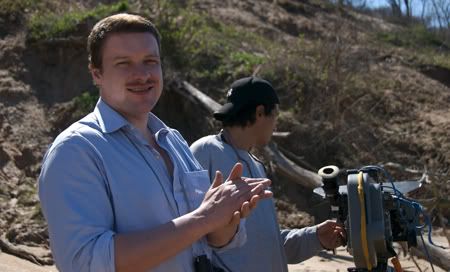 Glenn McQuaid

es el director y escritor de la próxima película de
Dominic Monaghan
,

I Sell the Dead,

una comedia de horror protagonizada también por Ron Perlman (

The Last Winter, Hellboy

). Este es un extracto de la reciente entrevista que le hizo el sitio

Zombie Future

.
Dinos algo sobre la pelicula.
Es una comedia de horror. Sin embargo, no es una parodia, tiene su propio ritmo. Se trata acerca de 2 roba-tumbas, Arthur Blake (Dominic Monaghan) y Willie Grimes (Larry Fessenden) , sus juicios y tribulaciones. Creo que fue una idea divertida tener a estos 2 arquetipos de robatumbas, cavando y desenterrando vampiros, zombies y lo que se te ocurra. Tiene mucha niebla.
La mayoria del film se cuenta en un

flashback

cuando Arthur confiesa su vida de crimen al padre Duffy (Ron Perlman), un cura que reúne discursos de prisioneros a la horca.
También hay zombies, pero no como los de hoy en día. Son extrañas y excéntricas criaturas que traen mucho dinero en el mercado negro.
Tienes un gran reparto en

I Sell the Dead

, como Ron Perlman y Dominic Monaghan. ¿Puedes contarnos un poco sobre como llegaron a participar en la pelicula?
Casi todo el mundo que leyó el guión pensó que era un respiro de aire fresco. Brahm Revel adaptó el guión del libro de comic y asi obtuvimos la gran referencia visual de la historia. Uno de mis productores, Peter Phok, sugirió a Dominic para Arthur y la idea calzó muy bien, de pronto nadie más podía interpretar a Arthur. Peter se aseguró que Dominic recibiera el guión y el comic, le encantó y con un poco de esfuerzo lo hicimos funcionar. Yo había trabajado con Ron Perlman antes en el set de

The Last Winter

donde participé en como coordinador de efectos visuales y segundo director. Tiene mucho talento y es un gran caballero. Le enviamos el guión y cruzamos los dedos. A Ron le encantó y así obtuvimos a nuestro Padre Duffy. Larry Fessenden también actúa como protagónico y verlo a él junto a Dominic dar vida a Arthur y Willie es fantástico, son geniales. Dom es un actor excepcional y alguien muy encantador con quien trabajar.



Este es el trailer disponible hasta el momento de la película, cuyo estreno les recuerdo está programado para el 2009.


Fuente: Zombie Future